The Mikeyra – A Eulogy
The Mikeyra was more than just a car. It was a way of life. It touched the hearts and captured the imagination of countless men, women and children. 
It taught us so much – we learned to love. We learned not to judge a book by its cover. We learned patience. We learned that if your heart is pure then no challenge is too large. We learned the importance of always having a valid RAC membership.
The Mikeyra was a simple soul. It was not one for unnecessary luxuries. Like power steering. Or electric windows. Or working cigarette lighters.
A fading bright red Nissan Micra, 1994 vintage, it was young at heart when I first encountered it – only 55,000 miles on the clock. It served me faithfully for many years, and by the time we parted company it was a much older, wiser car. A thousand tales hidden beneath its bruised and beaten chassis.
From the moment that I sat in the driver's seat, turned on the fan and got showered in leaves, I knew we would forge a special relationship.
And our adventures started early on. One of the first journeys we undertook was to Cardiff to see U2 in concert. If I remember correctly, every single road in the city was closed. We had to drive through a library to get there. Or something.
We got beeped at by a bus for being in the middle of the road. And laughed at by a welshman for asking about where to park. Eventually we settled on parking on double yellow lines next to a car park. After the gig, having somehow avoided a parking ticket, we arrived home at 4am.
The haphazard nature of this journey was to set the tone for what was to come. The time I drove to Bristol with Ben Reid in the pouring rain with my windscreen wiper not working was another favourite. I had to lean over to the passenger side to see where I was going.
And there was the time that I couldn't indicate right at all during a trip from Somerset to Southampton.
But nothing quite compares to the fateful convoy trip to (Sp)lashdown. Transporting the gentlemen of Ripstone Manor was never a job for the faint-hearted. Think terrifying creativity and wholly inappropriate mashups of The Temptations and Ludacris.
On this particular occasion, the detritus found within the Mikeyra was used to create a beer pong cup formation and a variety of cardboard penii. These were then attached to the girls' car during a traffic stoppage using the gaffa tape discovered in the boot.
The day finished with a richly deserved victory in the race back to Ripstone Manor. The girls got lost and Josh Hill's purple Micra was no match for the Mikeyra's cunning.
It has to be said though, that pace and power were not the little red car's strongest traits. Hills were not its friend. And the whining noise it made when you tried to go faster than 70mph was all too familiar.
But what it lacked in these matters, it made up for in sheer audacity, perseverance, and – perhaps most famously – its TARDIS-like storage capacity. See here, here and here.
It became a legend in the Southampton University Christian Union. Entire bands' worth of instruments were regularly transported to and from the EEE building. Most notably, of course, was Operation 2×2's unnecessarily expensively-assembled ensemble – complete with giant chicken costume.
One time we fitted an entire Ohm TRS218 bass bin in there. I've no idea why. The boot did not close. 
Special mentions go to Tim Jones' incredible zebra skin drum kit and Stephen Miller's far superior normal drum kit, for being regular users of the Mikeyra's flatpack back seats.
Speaking of flatpack, one of our Japanese friend's finest hours came when transporting a fully-made Ikea Billy bookcase around Southampton with David Blurton lying underneath it. His dad said it wasn't possible. The Mikeyra laughs in the face of the impossible.
It would be remiss of me, of course, to go without mentioning the great Evans brothers. Those car tetris genii that made so much of the Mikeyra legend possible. Their greatest contribution to the story came in a moment of surreal tetris-ception, when they had to squeeze themselves, two bikes and a friend (plus me driving) into that famous faded bodywork.
Eventually, of course, its age caught up with it. By the time of its fateful final road trip to Milton Keynes, it had taken a violent dislike to braking above 35mph and enjoyed a more-than-occasional judder as it ambled along the motorway. After taking leave of its alternator belt somewhere up the M3, it whimpered to a halt on a mini roundabout outside a pub in Wheathampstead at about 11pm.
Even then, it was not to be deterred. It soldiered on in the face of Ben Amos' father's genuine fear for my safety for a good few weeks, before it became painfully evident that its time had come. Agonisingly close to reaching the 100,000 mile barrier.
But impressive statistics and performance were not what the Mikeyra was about. It is somehow fitting that it ended its career just short of that milestone. It will not be remembered for its achievements, but its personality. Its winsomeness and stoicism in the face of hardship.
Because the Mikeyra is all of us. It did not sail through life. Its time on earth was epitomised by glorious failure and haphazard success. It championed both the mundane and the downright weirdness of existence.
I can only pray that when each of us reaches our final day and we look back upon our time on earth, we may see a life as full and richly satisfying as that of the little red Nissan Micra.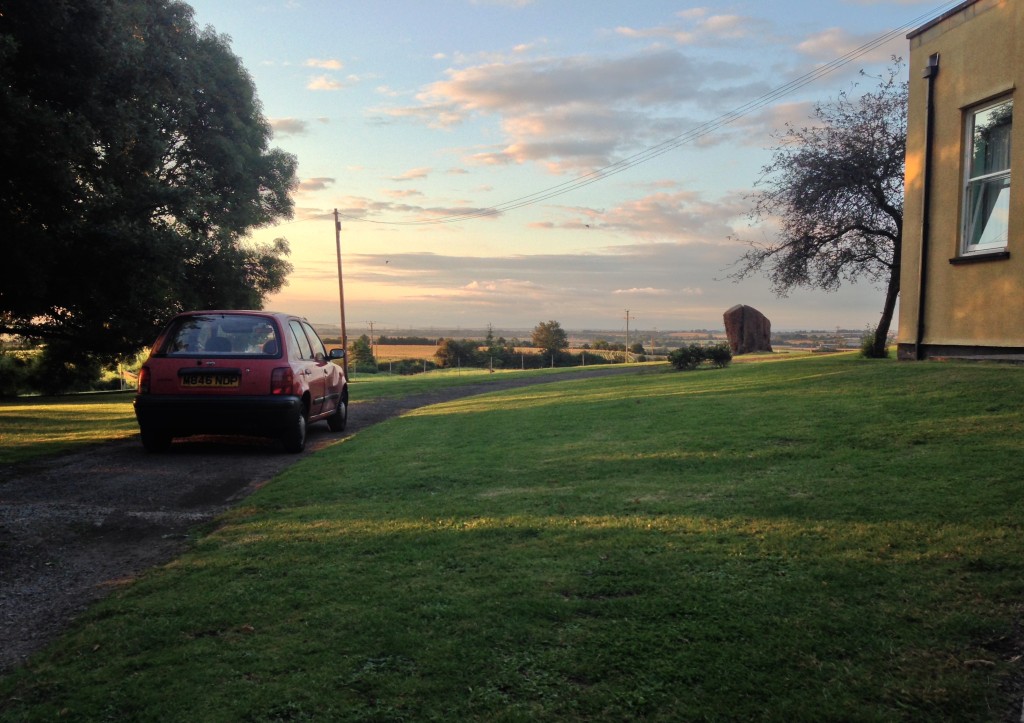 RIP